ABOUT
Tiik is an award winning singer/songwriter, and rhythm + lead guitarist, with a long herstory in the women's alternative rock scene; Lizzy Tisch, BeBe K'Roche, Toshi Reagan & the Agitones, Tiik with Native Ban, G.U.T.S. and others. Currently her band is G.U.T.S.(Tiik, Tina & August), an all female IndiePunkishRock trio based in Washington DC. G.U.T.S. released their debut CD, "It Takes G,U,T,S." in January 2012.
Check it out. (www.gutsband.com)

The Rainbow History Project Link for Tiik Pollet - (2012 UPDATE - this link may not be surrent - sorry!)
---
NOTES FROM Tiik:
"I do most of my writing with my main instrument, an electric guitar; a 1961 Gibson SG Jr. I also own (and play) a Taylor acoustic guitar. My lyrics have always had a political edge to them. My early inspirations were always my father and my musician friends, and then Motown, Tamla, Lesley Gore, girl groups, the British Invasion, Janis Joplin, Bob Dylan, Jimi Hendrix, Santana, B.B.King, Nina Simone, Stevie Wonder, The Supremes, and later, The Pretenders, Stevie Ray Vaughan, The Shaggs, Kate Bush, Siouxie & the Banshees, Annie Lennox, Nona Hendryx, Xray Specs, Ferron, Tribe 8, L7, Heather Nova, all the Dischord bands and a billion others.
Currently I ADORE Sia Furler, the Noisettes, Mary Timony, Wild Flag, MEN, Bitch, Geo Wyeth, Natalie Ilum - a brilliant spoken word artist associated with Mother Tongue in Washington, DC, CooLots, Girl In A Coma, Lez Zepplin, Black Blondie, Black Betty, Good Asian Drivers, Clinical Trials, The Cold & Lovely and soooo many more.
My current band is G.U.T.S. (Give Us The Strength) -with Tina on drums and August on bass. We are based in Washington DC and have just released our debut CD - It Takes G.U.T.S. Come to a show!!
Child moi / Teen moi, guitar & hair ironed / Lizzy Tisch studio shot/ Lizzy Tisch by tree / Lizzy Tisch - Venice Pavillon Mural / BeBe K'Roche in News/ BeBe K'Roche entourage/ Tiik sings, Jake drums / Toshi Reagan & the Agitones / Sharon Washington & Moi at Sisterfire Festival / Tiik with Toshi on tour / Katie, Mo, Tiik on Toshi tour / Moi big hair promo shot / Lisa Walker & Tiik / Tiik& Mary Chapin Carpenter @ Food For Thought closing, Wash, DC / Bernie Wandell, Moi, Phil Duarte / a few Tiik promo shots for national Tears tape and NEW 2009 CD /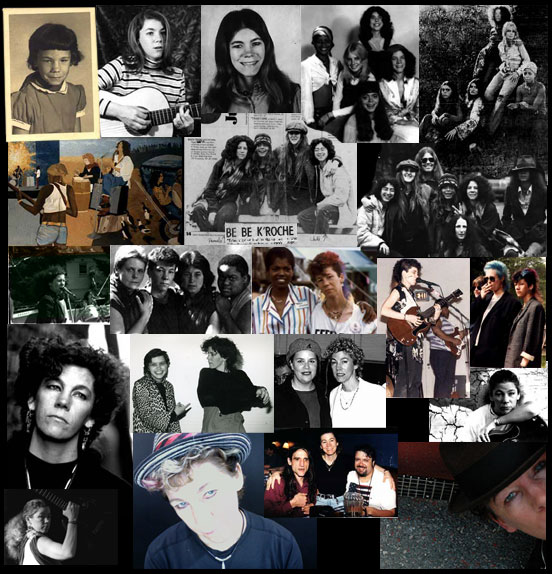 I began performing live for friends at an early age in Silver Spring, Maryland and then had my first real gigs in Europe, singing my way around England, Paris and Amsterdam for 8 months.
Where is my old guitar duo partner, Ron Tepper these days? And the Canadians, Caroline Weiner and Janet Busch? And Gail Butler from London? I would love to hear from them.
My family moved from Maryland to Santa Ana, California in the 1970's, where I played regularly at Terry's Village in Costa Mesa, a great open mike space. Charlie D. and Milo were regulars there.
I just reconnected recently with Charley D.!! What a great surprise. Here's a blogspot about them for interesting current trivia.
http://musiconthefringe.blogspot.com/2007/01/charley-d-and-milo.html
My first real band experiences were in Placerville, California. The male ego problems were abundant, with me being a "chick" playing electric lead. The guy lead guitarists didn't like that one bit. So I decided to play with women only and joined "Lizzy Tisch" in Los Angeles, met two of my soul mates, Gioia Siciliano and Virginia Rubino, and promptly moved into Linnie Canal in Venice. Gioia passed from Hep C in 2001. Virginia "Kahlua Mama" is still with us and as spunky as ever. Much Love!!!
Les Brown Jr. became the manager for Lizzy Tisch and we recorded at Wally Heider.
Lizzy Tisch on the amazing history of Venice Mural. That's me sitting on my fender amplifier and the back of Lois Webb on bass. We were the current history.

The Venice Mural was one of the first large scale historical murals created by the great mural artist Judith "Judy" Francisca Baca.The section featuring Lizzy Tisch was used by the 1970's band, War as a group photo background for a poster insert in their "Why Can't We Be Friends" album.
We had the coolest gigs at the Beach House, Ash Grove, Bitter End West and Bla Bla Cafe. I loved when we shared the bill with Birtha, Fanny, Teda Bracci & Dog Squeeze, and others.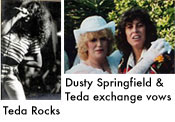 Al Jarreau was singing in the cocktail room of the Bitter End West, with Junior on piano, while we were out in the big room making loud noises. During our breaks we would go into the cocktail room to chill and listen to his vocal flute imitations and tell him he was going to be famous some day."....more coming soon...
One day Kate Millet sent Lizzy Tisch some money to come play at the FIRST EVER women's music festival, May 4, 1973, in Sacramento in a little park by the Sacramento river, which the festival christened Sappho. I was the only band member available to leave Venice at that time, so off I went to represent Lizzy Tisch. This festival was Margie Adams first live womens performance, in a line up that included Cris Williamson, Linda Tillery ("Tui"), Sweet Chariot, The Berkeley Women's Music Collective and many more. All of us were new to the scene. Well, the scene itself was new. We were creating it as we lived, breathed and sang out and shouted out our passions, love and rage.
And we had to deal with a posse intrusion of male bikers." ...more coming soon...
My band BeBe K'Roche, Berkely, Calif. 1974-77

At the festival I met a bass player from Oakland, Peggy Mitchell, and her band Sweet Chariot, w/ Sharon Russell vocals, Bonnie Johnson on drums and a guy on guitar. They wanted a female guitarist. Eventually, I moved to Oakland, joined Sweet Chariot, quit Sweet Chariot, and formed a duo with Peggy on bass. We traveled together, playing all my tunes and some covers all over the USA, did a Sophies Parlor radio show back in Washington, DC., and came back to Berkeley. One night Peggy and I showed up at women musicians jam at The Wild Side West Bar in San Francisco and found a great drummer, Janet "Jake" Lambert, who was in The Berkeley Women's Music Collective at that time. She joined our duo which then offically became a band. We added Selby on 2nd guitar and vocals for a while and formed BeBe K'Roche.
I made up the name BeBe K'Roche one day when Peggy and I were at home relaxing with some herbal tea and found a baby cockroach in the bottom of Peggy's cup. In a mock french accent and attempt to lessen the gross shock value I quiped, "Ah!!! Look at ze bebe cock roche." Voila! A band name is born.
Selby left and we added Virginia Rubino on keyboards when she moved up from Venice. Since we had already played in a few bands together it was a natural fit. V has a super voice and a great writing talent. We did our first recording at Blue Bear Studios in the Bay Area, and then later with the women owned Olivia records.

BeBe K'Roche was the first electric women's band to record with Olivia. It was a big deal back then because female acoustic acts were all the rage while women's electric bands were rare and so at that time of unknowm commercial value. We actually broke up officially before the Olivia recording due to internal conflict. You could say I left my band. I always considered it "my" band because I started it and wrote most of the tunes, yet in the sense of how we worked in reheasals on each writers tunes we were very much an equal group. Jake and Virginia wrote some gorgeous tunes. With me and my tunes gone they kept the name, Virginia wrote some new tunes, added Jerene O'Brien on guitar to do the Olivia recording and then to tour the album. I created an entire BeBe K'Roche page so go take a look. I'll also upload the album tunes and some of the original tunes with me. The quality has degenerated but I think they're still worth a listen. Sadly in April of 2009, my friend and former BeBe K'Roche bass player, Peggy Mitchell died. She was with loving friends at the time.
Tiik and Jake sing - BeBe K' Roche does a gig on a roof top - very "Beatles" of us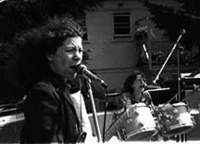 Me w/ Toshi Reagan & the Agitones 1983 -86
Later I moved back to my birth city, Washington, DC, where I played with Toshi Reagan & the Agitones (Kris Koth - bass, Barbara Lewis - drums), and then formed Native Ban w/ Kris Koth bass, Joe Ellison drums, Lisa Walker 2nd guitar. Native Ban released a tape of Tiik's original songs titled "National Tears".
"National Tears" w/Native Ban 1990 - 95 /G.U.T.S. 1991


I also had a variety of "Tiik & Friends" and "G.U.T.S." band incarnations with rotating players that have included Dave Byers(Bad Brains, and HR and the Psychotics), Dante Ferrando (Gray Matter, Ignition), Bernie Wandell, Phil Duarte (Pup Tent), Kris Koth, Brix(Stomp), Lennie Bachman, David Ylvisaker, Catherine Brayley, Maureen Tobin, Lisa Walker, Frona, Mark Hagerty(Gray Matter, Ignition), Huggy Bear, Tommy, Shelly, Frank Gilliam, Jimi Quan, Johnny "Blondie", and more.
You can hear my National Tears w/Native Ban tunes
and you can buy my CD AMAZON MP3 or GOOGLE MUSIC


or if you want to buy the National Tears tape. Just email me: tiik@aol.com
---
FOOD FOR THOUGHT RESTAURANT
I was the manager of FOOD FOR THOUGHT RESTAURANT and booked all the musicians. I actually turned Michele Shocked down for a gig. Dopey me. She came in with this badly recorded little tape. What can I say. Well, atleast I said "Yes" to Mary Chapin Carpenter, Betty, Shawn Mullins and Melissa Ferrick. Phew!!!
Me & Mary Chapin Carpenter at the closing of Food For Thought Washington, DC 1999.

For 25 years Food For Thought Restaurant served the Washington area as a community-minded healthy foods restaurant. With it's large bulletinboard, stage for local and international musicians, and upstairs bar, this long loved space had something...continued
---
Food For Thought Restaurant is now Food For Thought Cafe inside the
BLACK CAT
- A Washington DC Night Club, 1811 14th St. NW WDC 20009 | Sunday-Thursday 8pm-2am, Friday & Saturday 7pm-3am | 202.667.7960
Bobby Ferrando, the owner of Food For Thought Restaurant (now Cafe), has written a book, "My Spiritual Revelations And Other BS". www.MySpiritualRevelationsAndOtherBS.com
---
---
CURRENTLY
---
My current band is G.U.T.S. Tina on drums, August on bass/vocals, me on guitar and vocals.
www.gutsband.com

Deep deep thanks to everyone who contributed to our KICKSTARTER campaign to release our DEBUT CD, "It Takes G.U.T.S."
iTUNES
AMAZON MP3
GOOGLE MUSIC
MySpace
Reverbnation

NATIONAL TEARS is my first album of all original tunes and it was with Native Ban, Kris Koth - bass, Joe Ellison - Drums, Lisa Walker - 2nd guitar. Links for purchase coming soon.

---
SOME PAST SHOWS:
---
Sidewalk Cafe - NYC - Nov 2013 Hard Rock Cafe - VA - Aug 2013 Treehouse Lounge - DC - Aug & Dec 2013 Hershey Bar - VA Beach - Aug 2013 JAMMIN JAVA - VA - Dec 2013 Webster Hall - NYC - 2012 The Quarter - Balt. MD - 2012 Otto's Shrunkenhead - NYC - 2011, 2012 Chief Ike's Mambo Room - DC - 2010, 2011, 2012, 2013 SisterSpace Festival Weekend - MD - 2012 Capital Pride Street Festival - Wash DC 2010, 2011, 2012 PhaseFest Wash DC - 2009, 2010, 2011, 2012, 2013 BloomBars Women's Day Festival - DC 2010, 2012 Artomatic, Wash DC 2009, 2012
Friday, Nov. 13
G.U.T.S.
Opening for
STATE OF
followed by New Gay
SHE REX
party Chief Ike's Mambo Lounge 1725 Columbia Rd NW Washington, DC - (202) 332-2211
---
Saturday, Nov. 14
G.U.T.S.
@ 10th Annual NYC GoGirlMusicFest
Otto's Shrunken Head 538 E. 14th St., NYC, NY
---
Sunday, Nov. 22
G.U.T.S.
w/
DOLLAR BIN
for their CD release Party and a little Food For Thought Reunion-ish time Asylum - 2471 18th St NW Washington, DC - (202) 319-9353