G.U.T.S. -
Tiik on guitar/vocals, the fabulous Tina on drums and August on bass/vocals, has some upcoming shows - see the list over there on the right
---
G.U.T.S. CURRENT NEWS:
---
2012
8-19-2012
Hi pals! G.U.T.S. is on a roll for the month of September. We are booked every weekend and very excited to play for everyone. In Washington DC, our home, we play PhaseFest and the STPPFest(Sweet Tea Pumpkin Pie) Then in NYC, which we LOVE visiting, we play The Ding Dong Lounge & Otto's Shrunken Head. READ the shows list to the right for all the details and to choose all the shows you're so very excited to come to. YAY!!
You can also check us out on our website.
3-1-2012
Hi G.U.T.S. pals!! Happy New Year 2012!!! Here's what's been happening with our guts.
Our year 2011 ended with the completion of our Kickstarter goal for our Debut CD "It Takes G.U.T.S." and we released it successfully because of your awesome support. The rewards are being sent off any second now, in the second week of March.
In 2012 are excited to have a gr8 start.So far we had a show at the Sound Stage in Baltimore. You were so sweet to us and enthusiastic.
Next we are at BloomBars this Saturday, March 10 with our sub-drummer Jenn Fox-Thomas (Girl Loves Distortion) Yes, our beloved awesome drummer Tina, who we miss so deep in our guts, is still in Berlin and couldn't come back for this one.
After that we go back to Baltimore to the Brass Monkey, April 28, to do a show with Mzery Loves Company. Not to be missed.
Then in June we are super excited to be playing Capitol Pride Festival on the MAIN STAGE, Sunday, June 10...time TBA. And very likely on Saturday, June 9, we will be playing at Artomatic in Crystal City....again, time TBA.
We have plans for more shows and will post them here and on www.gutsband.com as well as our FB and reverbnation pages.
---
2011
Okey dokey - We've been into gettn this debut CD recorded and finally we expect to release it in November 2011. It's been an intense labor of love and it's nearly ready. We NEED your help, though! Here's our KICKSTARTER fundraiser link. Please go over there and donate. Thank you everyone for constantly askn when when when. We absolutely love and need you and all your adoration and begging. The album is titled "It Takes G.U.T.S." featuring SuperSHE. Can't wait to get it to your magical hands.
---
2010
Hello my peeps -
In June we are going into the studio to record our first CD as G.U.T.S. We're also going on the road. Tho' it's only for 2 days, it's still the ROAD! YAY!!! We're playing June 5 in New Haven, CT at Greenfest & June 6 in Balitmore, MD. at The Quarter, in an Indie show w/ Keeping Riley, Friends of the Octopi and 7 other bands. Here's the poster.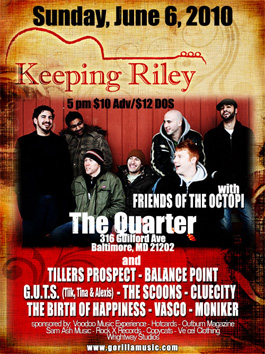 ACOUSTIIK NEWS:
I'm playing a bunch of solo shows as AcousTiik at OPEN MIC's to keep myself in front of you cwazy adorable fools, so look for me in joints around Washington DC and surrounding states all the way up to NYC.
Current dates are over there. -->
---
G.U.T.S. OLD NEWS:
And we are ready to morph our name into G.U.T.S now – we've dropped the Tiik With or w/Tiik. So know us by our name cuz we are G.U.T.S. And, YES - it's an acronym. First one to guess what it means gets a free copy of our upcoming early summer CD release, "Bomb Scare".
The show on April 3 @ JAXX is a Battle of the Bands and we REALLY NEED you to buy tickets in advance cuz the bands with the most adv. ticket sales get the better time slots. Although winning the battle would be cool, we're not too hung up on that part....we just want to play to a large crowd. So better time slot=larger crowd. I don't have PayPal set up here yet so email me for tickets and we'll work it out. tiik@aol.com